Reduce: less is more
Less material, less environmental impact
The most environmentally friendly material is one that is not used at all. That is why sustainability must start at the source – with the aim of reducing material usage and CO2 emissions.
In the past, one thing was all-important: attracting attention at the point of sale, even though this often meant using more material. This situation has now changed fundamentally, with a paradigm shift driven by plastic waste polluting the environment, targets for reductions in CO2 emissions, and business considerations including minimizing weight and saving warehouse space. Using less material is the top priority. And this is exactly what the first R – reduce – is all about, because when less material is used, it is always better for the environment.
Having a circular economy also means minimizing material right from the outset. Join the circular revolution!
It is often the case that small changes can have a big impact. For instance, simple optimizations in cup geometry can save a vast amount of material. Let's look at an example: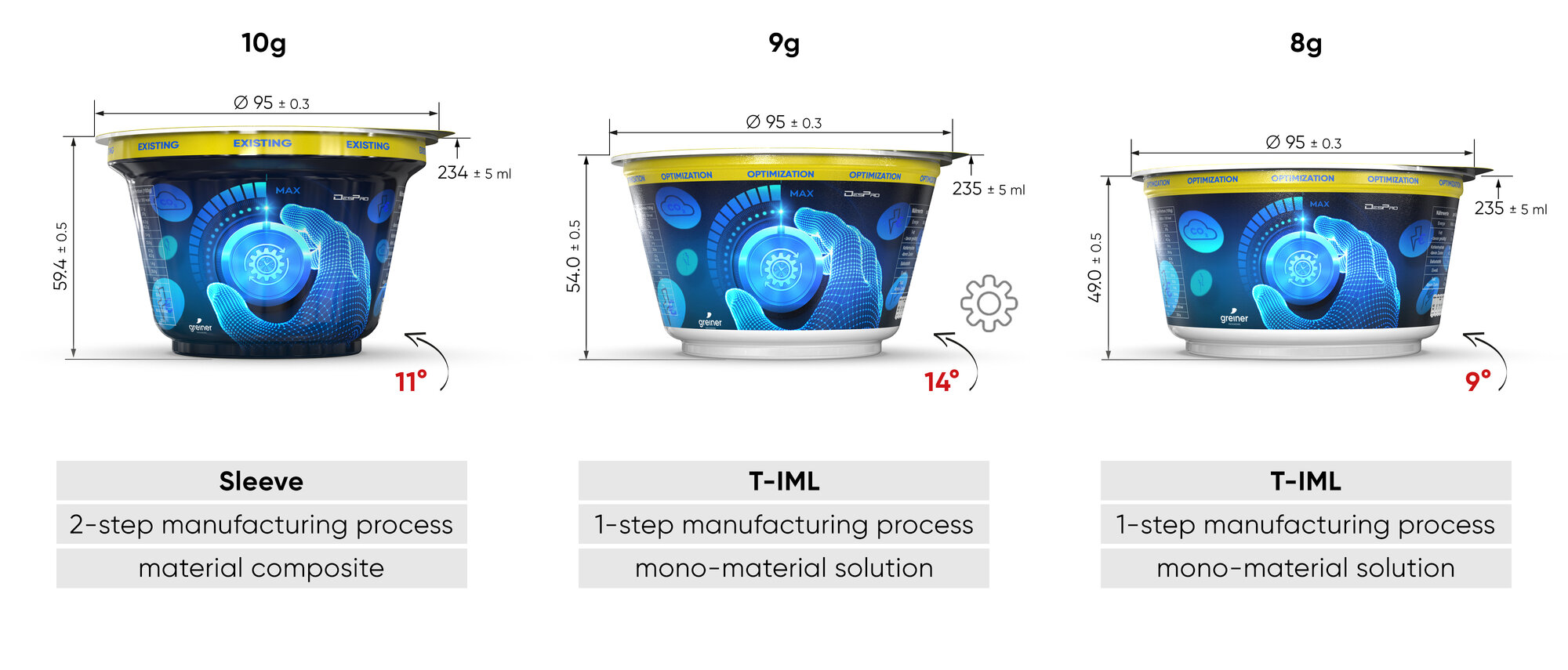 Minimal adjustments to the geometry of this PP cup reduce material inputs by 20%. With a production quantity of 30 million cups per year, this translates to a saving of 60 metric tons of plastic. This in turn has a positive effect on the solution's carbon footprint, as less raw material is used, processed, and ultimately disposed of. Plus, the optimizations improve the stackability of the cups, thus reducing the number of truckloads being transported and saving space in the warehouse, which also cuts energy consumption in the case of chilled products.
By making this simple improvement, we have:
Reduced weight by 20%
Saved 60 metric tons of plastic per year (based on 30 million cups produced)
Shrunk the carbon footprint
Reduced the number of truckloads by improving stackability
Saved space and cut energy consumption
We want to use all our ideas to offer complete solutions: sustainable packaging that allows for differentiation at the point of sale while also being commercially viable.
Innovations minimize material
Our thinking also goes to completely new places. For instance, our team is currently developing a structured cup based on a concept that has already been successfully implemented – an ayran cup with a hammered appearance. By aiming to reduce material usage without sacrificing rigidity and top load, we have created a plastic cup that stands out thanks to its special look and feel and can be custom-embossed. Embossing makes the cup sturdier, allowing us to further reduce the amount of material used.
Sustainability depends on us working together – let's talk!
Global Expert Product Management
Here are a selection of real-world examples that demonstrate how our customers are cutting down on material usage to make a positive impact on the environment and their bottom line: