r-PET HTS®
The high-temperature stable solution for r-PET packaging
In order to achieve the goal of a functioning circular economy, Greiner Packaging is pursuing a wide variety of paths – from resource and CO2e savings, to increasing the recyclability of packaging, to the increased use of recycled materials.
Due to its chemical properties, PET changes its material properties (it contracts) as soon as it comes into contact with heat. This makes conventional PET (and therefore r-PET as well) unsuitable for products that are filled at temperatures above 60°C. The same applies to products whose packaging has to be sterilized at up to 120°C before filling, as is the case with many dairy applications.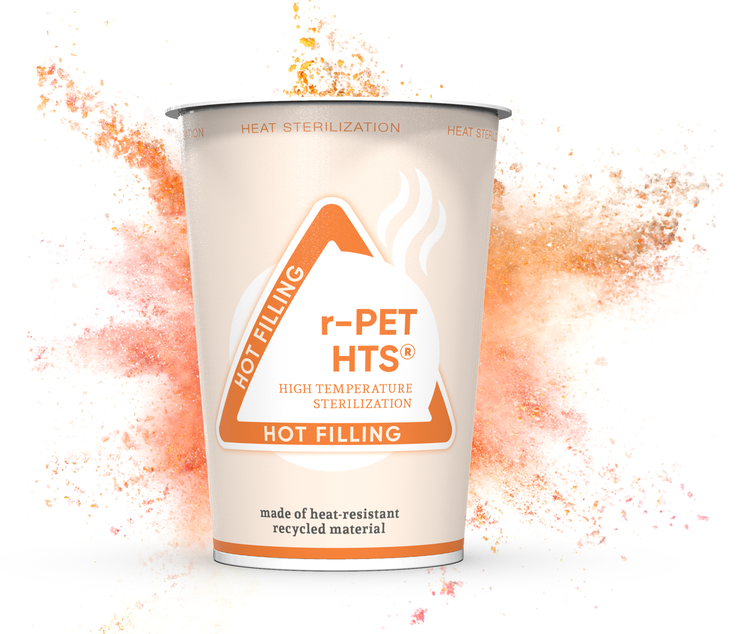 To solve this challenge, Greiner Packaging has developed heat-resistant PET cups that can withstand temperatures of up to 120°C for a short time and can be made entirely from recycled material. The innovation r-PET HTS® (hot temperature sterilization) opens up completely new possibilities for the dairy industry to package their products sustainably.
The advantages at a glance:
High temperature stability
r-PET HTS® can withstand temperatures of up to 120°C for a short period of time – in course of the filling or the sterilization process.
Low oxygen permeability
r-PET HTS® can withstand temperatures of up to 120°C for a short period of time – in course of the filling or the sterilization process.
Up to 100 % recycling material possible
Depending on the application and customer requirements, PET HTS® packaging can be made from recycled material.
Optimal recyclability
PET HTS® can - like conventional PET - be kept in the regular material cycle and recycled accordingly.
"With PET HTS®, we can offer dairy customers a packaging solution for their products that uses recycled material without having to make any changes to their filling process.
In recent years, Greiner Packaging has invested a lot of time and know-how in the development of (r-) PET HTS®. With success! Initial tests have proven that the material delivers what it promises. Greiner Packaging is ready for pilot projects with customers for the market launch of the material.
Want to find out more about our r-PET HTS®? Please contact Thomas Edbauer, key account manager, who will be happy to answer all your questions!
Global Product Group Manager
Basically, PET HTS® consists of a-PET and a proportion of r-PET defined together with the customer. In order to enable the HTS® functionality, special additives (which are not essential for the recycling process) are added.
The material can withstand short-term exposure of up to 120°C
The material is particularly suitable for dairy applications where the packaging needs to be sterilized at high temperatures before filling. Likewise, the packaging is suitable for products that are filled hot or have to withstand high temperatures for a short time for other reasons.
Unlike (r-)PET, conventional (r-)PP and (r-)PS can withstand higher temperatures. However, these two materials cannot be used for food applications in their recycled state because they do not currently have a positive EFSA opinion. This makes r-PET the only material that can be used on a broad basis for food packaging. Accordingly, the development of r-PET HTS® is a great opportunity for the dairy industry to use recycled material. So-called c-PET has already been on the market for some time. It can withstand equally high temperatures, but is unsuitable for recycling, which is why Greiner Packaging has decided against using this material.
The material is not suitable for prolonged exposure to heat - for example, in the context of sterilization of food products or microwave applications.
Please fill out the
contact form
or get in touch with your Greiner Packaging contact person directly. In a joint discussion, we will determine your needs and define the next steps.