Refill bottle for concentrates
Innovative refill solution that ensures plastic savings.
With the sustainable "Trigger Refill" bottle, Greiner Packaging offers a solution that is as clever as it is environmentally friendly: a refill bottle for multiple dosing that - depending on the intensity of the concentrate - can replace more than four conventional spray bottles and attachments. There is no simpler and cheaper way to save plastic waste. The idea comes from Greiner Packaging's in-house design and prototyping department, DesPro.
The advantages at a glance:
Reduced use of plastics

Recycled material possible

Exact dosing

Child safety

Easy handling

Attention on the sales shelf
Up to 85% plastic savings compared to existing refill solutions:
A conventional 750 ml spray bottle with a spray head can provide approx. 10,000 spray units of 1 ml over its lifecycle - an amount that is not utilized in commercial applications, but can be realized through multiple use - for example, in combination with the Trigger Refill bottle: The 200 ml refill packaging is made of HDPE, PP or
PET
material and weighs only a good 16 grams in its original form. To fill a 750 ml spray bottle, 50 ml of concentrate is taken and mixed with water. A 200 ml Trigger Refill bottle thus corresponds to 4 complete spray bottle fills and has the potential to save up to 85 % plastic.
Recycled material & recyclability: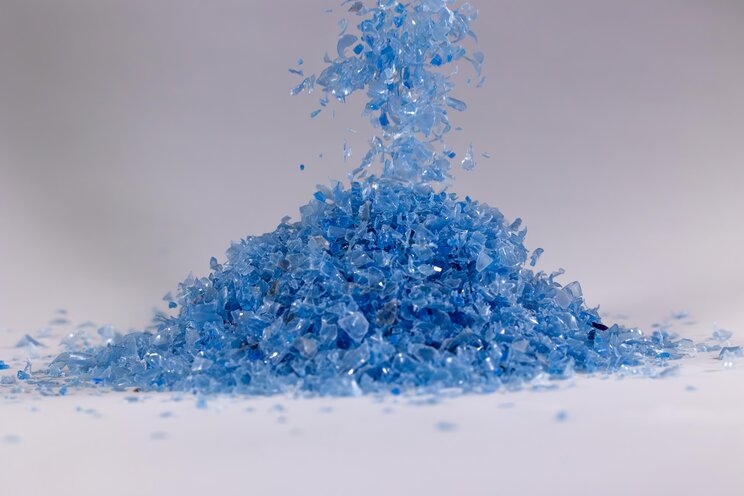 The Trigger Refill bottle can be made of HDPE, PP or PET, depending on the customer's requirements, and the lid can be made of HDPE or PP accordingly - easily even from post-consumer material. Greiner Packaging advises its customers on the ideal use of materials for packaging and decoration individually tailored to each project to ensure optimum recyclability.
Precise dosing & easy handling:
Precise dosing of the concentrate is achieved by squeezing the predefined positions on the bottle. The dosing quantity can be precisely adjusted - to the milliliter - to the concentrate requirements using tool change inserts. To ensure drip-free application, a special guide unit is integrated in the cap of the bottle. A practical fill level indicator rounds off the functionality.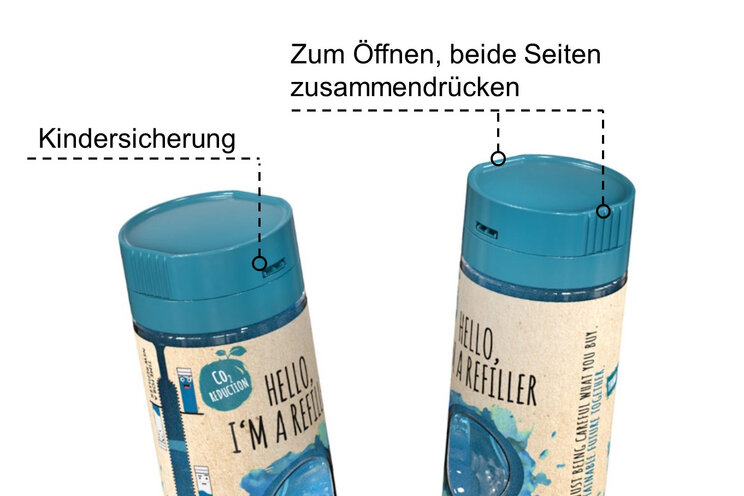 The non-removable snap-on lid with hinge has a safety lock. Nevertheless, chemical cleaning agents should always be kept out of reach of children.
Due to their size alone, refill bottles attract the appropriate attention at the point of sale compared to other refill packs. They can also be designed or decorated in a way that is large and attractive to consumers. Outer packaging is no longer absolutely necessary, which ensures further material savings and underlines the sustainable approach.
Packaging facts
---
Bottle:
---
Closure:
Technology: injection molding
Material: PP/HDPE
Special features: fliptop cap with guiding nozzle and valve
---
When developing the new refill bottle, we were of course primarily concerned with material savings. These are multiplied many times through the intelligent refill cycle - up to 85% compared to existing solutions. This can save up to 1,000 tons of plastic per year, assuming that 20 million standard spray bottles are replaced by our Trigger Refill solution. To be sustainable, reusing and refilling spray bottles must become a new normal.
Want to learn more about our Trigger Refill bottle? Contact Stefan Ebli.
Head of Design & Prototyping Services