r-PET
Strong availability, food-grade status, and high quality are the properties that make r-PET the top material when it comes to sustainable packaging. Greiner Packaging is working continuously to optimize the material itself as well as driving the methods used for processing it.
High transparency:
Thanks to the high transparency of r-PET, consumers can already convince themselves of the freshness of the packaged food on the supermarket shelf.
Good availability:
r-PET is readily available both in Europe and internationally. Greiner Packaging customers benefit from the recycled material of Greiner Recycling.
Food grade combined with R-Content:
r-PET is granted a positive EFSA-opinion and can therefore be used as (almost) the only mechanically recycled material for food applications.
Low oxygen permeability:
Thanks to its good barrier properties, r-PET protects products particularly well from external influences, such as oxygen or light.
High compatibility with products containing fat:
Even products with a high fat content can be safely packaged in r-PET.
r- PET is currently the only mechanically recycled material that can be used for food applications, given the strict nature of the requirements imposed by the European Food Safety Authority (EFSA). To obtain a positive EFSA rating, a material must satisfy an extensive set of criteria – and it is precisely because r-PET has met these standards that it has great potential for the future. Food producers are under increasing pressure, after all. In addition to growing demand from consumers for sustainable packaging, the rules and regulations imposed by political decision-makers are constantly proliferating.
r-PET recycling plant Greiner Recycling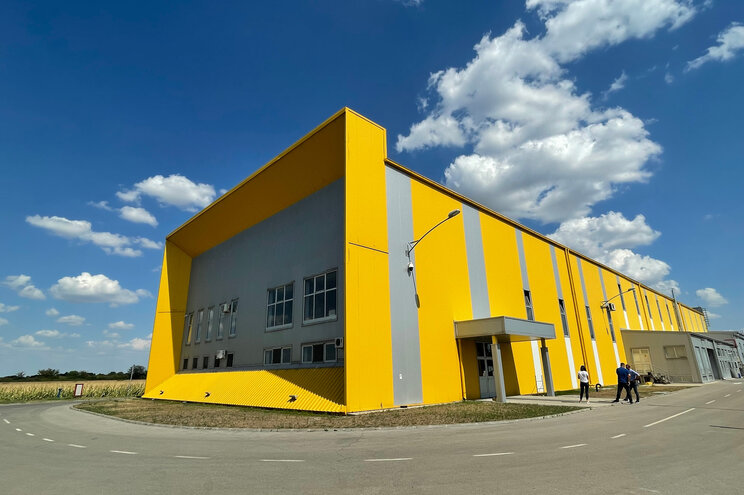 In order to meet the increasing demand for r-PET, Greiner Packaging purchased its first PET recycling plant in Serbia in the fall of 2022. Operating under the name Greiner Recycling, it has since been making r-PET flakes in various purity grades available to Greiner Packaging customers.
Through Greiner Recycling, we are enhancing our portfolio of materials and expanding our expertise in recycling processes – a crucial future area of business.
PET and r-PET as well as the processes for processing the material and its decoration are constantly being developed further. Greiner Packaging is also continuously advancing solutions made of r-PET, for example by developing
high-temperature-stable r-PET cups
, or by offering
injection-molded cups made of r-PET
. The ultimate goal of the entire industry for the future is to establish a tray-to-tray cycle for r-PET that keeps recycled PET in circulation, independently of bottle streams. Here, too, Greiner Packaging is working on numerous projects to bring this vision to life.
As we work toward our sustainability goals we naturally pay special attention to the possible creation of other r-PET streams in addition to the bottle-to-bottle stream. That would mean that an old PET cup could become a new PET cup in the future.
You interested in our r-PET solutions?
Please contact Sebastian Diensthuber. He will be happy to answer your questions.
Global Product Group Manager
Greiner Packaging and a large number of its customers have already successfully brought r-PET packaging to market. But as unique as each solution is, every project has one thing in common: a commitment to sustainable packaging.