r-PET
Strong availability, food-grade status, and high quality are the properties that make r-PET the top material when it comes to sustainable packaging. Greiner Packaging is working continuously to optimize the material itself as well as driving the methods used for processing it.
High transparency:
Thanks to the high transparency of r-PET, consumers can already convince themselves of the freshness of the packaged food on the supermarket shelf.
Good availability:
r-PET is readily available both in Europe and internationally. Greiner Packaging customers benefit from the recycled material of Greiner Recycling.
Food grade combined with R-Content:
r-PET is granted a positive EFSA-opinion and can therefore be used as (almost) the only mechanically recycled material for food applications.
Low oxygen permeability:
Thanks to its good barrier properties, r-PET protects products particularly well from external influences, such as oxygen or light.
High compatibility with products containing fat:
Even products with a high fat content can be safely packaged in r-PET.
r- PET is currently the only mechanically recycled material that can be used for food applications, given the strict nature of the requirements imposed by the European Food Safety Authority (EFSA). To obtain a positive EFSA rating, a material must satisfy an extensive set of criteria – and it is precisely because r-PET has met these standards that it has great potential for the future. Food producers are under increasing pressure, after all. In addition to growing demand from consumers for sustainable packaging, the rules and regulations imposed by political decision-makers are constantly proliferating.
r-PET recycling plant Greiner Recycling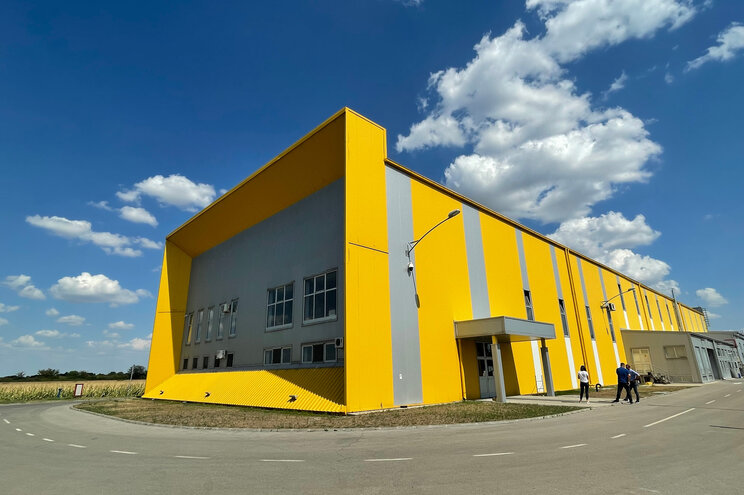 In order to meet the increasing demand for r-PET, Greiner Packaging purchased its first PET recycling plant in Serbia in the fall of 2022. Operating under the name Greiner Recycling, it has since been making r-PET flakes in various purity grades available to Greiner Packaging customers.
Through Greiner Recycling, we are enhancing our portfolio of materials and expanding our expertise in recycling processes – a crucial future area of business.
PET and r-PET as well as the processes for processing the material and its decoration are constantly being developed further. Greiner Packaging is also continuously advancing solutions made of r-PET, for example by developing
high-temperature-stable r-PET cups
, or by offering
injection-molded cups made of r-PET
. The ultimate goal of the entire industry for the future is to establish a tray-to-tray cycle for r-PET that keeps recycled PET in circulation, independently of bottle streams. Here, too, Greiner Packaging is working on numerous projects to bring this vision to life.
As we work toward our sustainability goals we naturally pay special attention to the possible creation of other r-PET streams in addition to the bottle-to-bottle stream. That would mean that an old PET cup could become a new PET cup in the future.
You interested in our r-PET solutions?
Please contact Sebastian Diensthuber. He will be happy to answer your questions.
Global Product Group Manager
R-PET stands for recycled polyethylene terephthalate, which is a type of plastic that is made from recovered post-consumer PET waste. The main difference between r-PET and virgin PET is that r-PET is produced from recycled materials, while virgin PET is made from new, raw materials.
r- PET is currently the only widely available mechanically recycled material that can be used for food applications, given the strict nature of the requirements imposed by the European Food Safety Authority (EFSA). Greiner Packaging is also working intensively on advancing other mechanically recycled materials, such as r-PP and r-PS. However, so far these materials were not in compliance with EU food-contact regulation which means that they cannot be used for food applications yet.
When PET bottles arrive at a recycling plant compressed in bales, they are sorted, washed, treated, and shredded. This results in r-PET flakes, which can then be put through a decontamination and conversion process into packaging.
The recycled PET used today for packaging is mainly obtained from bottle streams. Collection streams for PET beverage bottles are already up and running around the world, so PET bottles are available in large quantities for recycling. In addition to their high collection rate, the bottles offer another decisive advantage – they are usually transparent or bluish in color and either undecorated or only decorated with an easily detachable label or sleeve. This has a positive effect on the quality of the recycled material, as recycling processes carried out using largely transparent, unprinted input material yield similarly pure output material.
The use of recycled materials offers several environmental benefits. Most of all, it saves resources and decreases greenhouse gas emissions associated with the production of virgin materials. Additionally, PET offers a high oxygen barrier, which is a benefit in terms of shelf life and following food protection.
Today, food-grade r-PET is produced almost exclusively from bottle streams. However, if the material is used to make items such as cups and blister packs, there is currently only a limited opportunity to recycle it again. That must change in the future, with the aim to establish a so-called tray-to-tray recycling stream. Many projects already exist that drive such streams.
Another challenge is that, in comparison to other materials such as PS or PP, conventional (r-) PET shows lower heat resistance. For products that require heat resistance (r-) PET HTS® will be an interesting option in the future.
On the production side, it requires good experience to smoothly process r-PET as the recycled input material is more inhomogeneous than virgin material based packaging. Regarding the product itself, there can be slight differences, especially in terms of color. While PET products shine with very high transparency, packaging made from r-PET tends to have a somewhat greyish/bluish/greenish appearance.
Greiner Packaging and a large number of its customers have already successfully brought r-PET packaging to market. But as unique as each solution is, every project has one thing in common: a commitment to sustainable packaging.