K3® – cardboard-plastic combinations
With our cardboard-plastic combinations, called K3® packaging, a cardboard wrap is applied to plastic packaging – such as a cup, tub, or bottle. K3® is becoming an increasingly popular packaging solution, and rightly so. After all, this packaging is not only convenient and features an appealing look – its sustainability characteristics are extremely attractive, too.
The materials used (unprinted PP cup and cardboard) are 100% recyclable when separated and disposed of by the consumer. If necessary, the cardboard wrap can be made from recycled cardboard or even grass paper. Greiner Packaging will use r-PET or r-PO for its packaging as soon as these materials are approved for food applications. Cardboard-plastic combinations perform extremely well when taking the entire life cycle of packaging into consideration in general: They require 32.7% less plastic material, use up to 80% recycled cardboard, and have a 17% better carbon footprint than packaging made entirely of plastic (reference value: cup – 95 mm diameter, 500 ml filling volume, direct printed, thermoformed).

K3® - the benefits at a glance:
Plastic content minimized:
The cardboard wrap lends sturdiness to the plastic cup so that the cup can have particularly thin walls.
CO2 emissions reduced:
Using less plastic to produce a K3® cup also significantly reduces the CO2 emissions associated with the cups.
Easy to separate:
It's no hassle for consumers to detach the cardboard wrap from the plastic cup and dispose of them separately. The new, protected Greiner Packaging tear-off system makes the separation process extra simple. The unprinted cup produces top-quality recycled material.
Use of recycled materials:
The cardboard wrap can be made from up to 100% recycled material. And the plastic cup can contain recycled material, too – even as much as 100% r-PET.
Unique design options:
The cardboard wrap can be printed on both sides and custom-finished for maximum visual appeal. Window cutouts can also be incorporated in the cardboard wrap to give consumers a first glimpse of the product inside.
Digital Watermarks
Ideally, consumers separate cardboard and plastic from each other and dispose of them properly. However, if this does not happen, the latest technologies such as "digital watermarks" can ensure that the individual cup components are correctly identified in the waste sorting system and assigned to the respective material stream.
K3® with a hollow bottom
Greiner Packaging develops a cardboard-plastic cup that features a concave base and is also wrapped in cardboard. The design is particularly convenient for use with barcodes, which can be printed on the base and simply swiped across checkout scanners.
New tear-off system for K3®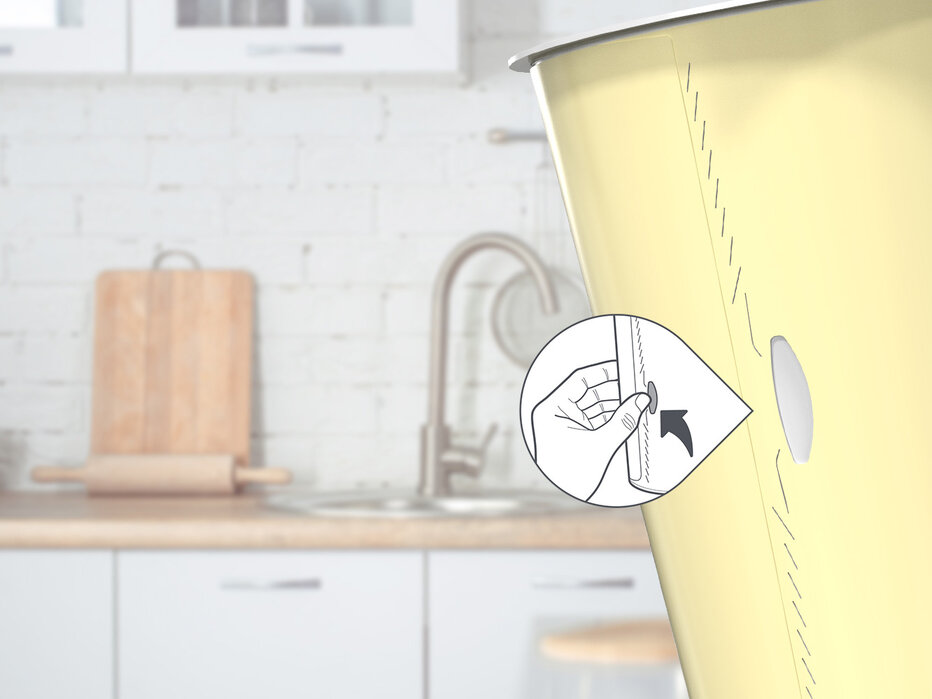 A newly developed tear tab incorporated in the cardboard wrap makes separating cardboard from plastic even easier and more intuitive.
K3® Multipacks
Cardboard-plastic combinations can also be made in multipacks of various sizes. It is even possible to use different decorations for the single cups – ideal for different tastes.
K3® with a folding wrap
Customers receive separate plastic containers and folded cardboard wraps. A machine unfolds the wraps and slips them over the containers just ahead of the filling stage. This type of cardboard-plastic combination helps to keep inventory to a minimum, making it especially suitable for customers who use a wide range of decoration options because they offer their product in different markets or under various brand names.
The first self-separating cardboard-plastic cup is called K3® r100. Intensive development work has resulted in a K3® cup whose cardboard wrap detaches itself from the plastic cup during the waste disposal process. The innovation sets new standards in terms of recyclability.
Do you have any questions? We look forward to receiving your written inquiry!
Sales Director