Salads to go – convenient and sustainable. Is that possible?
04/08/2020 | 7 min read
Today, ready-made salads are available in every supermarket. Washed and cut into bite-size pieces, they can be found prepackaged in the refrigerated section and make an ideal choice for a healthy meal. Some ready-made salads even come with dressings and cutlery, so all the consumer needs to do is mix the individual components together and they're ready to be enjoyed. But the salad market segment includes not only fresh salads but also snacks for any time of the day, such as prepackaged pasta, egg, and vegetable salads as well as couscous and shrimp cocktail. Products like these are booming along with convenience meals in general. They're benefiting from the growing popularity of fresh foods that can be consumed quickly and easily on the go. These meals help save time – and present consumers who care about sustainability with a challenge. While they may be convenient, they're usually packaged in large amounts of plastic.
Convenience and sustainability are dominant issues in the groceries market – and the market segment comprising salads and snacks is no exception. These two key considerations not only affect the products themselves, but also have a particularly significant impact on the way the items are packaged. That's why identifying innovative solutions is necessary, so that these two trends – which appear so contradictory – can be combined for ideal results.
Saving time with convenience products
Ready meals come in an endless variety of types of plastic packaging. They make life easier for many consumers, but they're also causing a continual increase rather than decrease in the use of plastic. Nonetheless, demand for convenient meals that save time and are easy to consume can't simply be dismissed – quite the opposite. More and more people live and work in cities around the world, so their day-to-day lives are often shaped by fast-moving events and tight schedules. With incomes rising, as has been the case in Central and Eastern Europe, an increasing number of people are willing to spend money on convenience foods like prepackaged salads. Meals that are handy for eating on the go, save consumers the trouble of cooking at home, and yet still represent a healthy option are the latest trend. At the same time, the growing number of single-person households is also contributing to the rise in demand for convenience meals. It's often not worth cooking a meal for one, which is why so many individuals opt for conveniently packaged single portions. While it's true that these products create more packaging refuse than large family packs, they also help to cut down on food waste. As a result, small pack sizes can represent real added value for the environment, especially because discarded food is one of the biggest climate offenders in terms of CO2 emissions. But there are opportunities to be leveraged in convenience meal packaging.
Sustainability counts, from contents to packaging
Trying to balance the desire for convenience with high sustainability standards gives many consumers an uneasy conscience. For many, environmental protection, health, and fairness are important criteria in their shopping choices. People specifically seek out foods and dishes with natural ingredients that are grown locally and perhaps even organically, produced in fair conditions, and ideally have a positive impact on health and life expectancy. The growing trend for vegetarian or vegan foods shows that more and more people are thinking carefully about their diet. Foods have to meet certain expectations and also reflect moral and ethical standards in some cases. Indeed, shoppers want to see these attitudes reflected in the products' packaging as well. But, in terms of materials, plastic in particular has gained a bad name – pictures of beaches covered in plastic refuse have been burned into our collective memory. Consequently, consumers not only want to do something good for themselves when they shop; they also want to do their part to prevent harm to the environment. However, the ideal image of a packaging-free supermarket is somewhat difficult to realize. While this concept may work well in some product categories – such as loose fruit and vegetables or baked goods – the majority of foods need to be packaged both to protect them and so they can be transported.
Packaging solutions for every need
Greiner Packaging has responded with its commitment to offer packaging solutions that meet consumers' expectations with respect to both convenience and sustainability as effectively as possible. In doing so, the packaging specialists are concentrating on three focus areas with the aim of enhancing the sustainability of the company's products:
Cardboard-plastic combinations are an especially sustainable type of packaging – thanks to their recyclability, the fact that they use less material, and their small carbon footprint. The K3® solutions consist of a thin plastic cup wrapped in a cardboard sleeve. The two components can be easily separated from one another and recycled. Upon request, the sleeve can be made of recycled cardboard or even grass paper and can be printed on both sides – making it sustainable and attractive at the same time. Window cut-outs in the cardboard are another option, giving consumers the opportunity to take their first look at the packaged product before leaving the supermarket. This simplifies the purchase decision, whets consumers' appetites, and is particularly important in the salad segment – after all, consumers want to check that the salad is fresh while they're still in the store.
Cup packaging might be the first thing that comes to mind when you think of cardboard-plastic combinations. However, other solutions combining cardboard and plastic are possible as well. One example in the salad segment is the product Greiner Packaging created for Kainz, an Austrian company.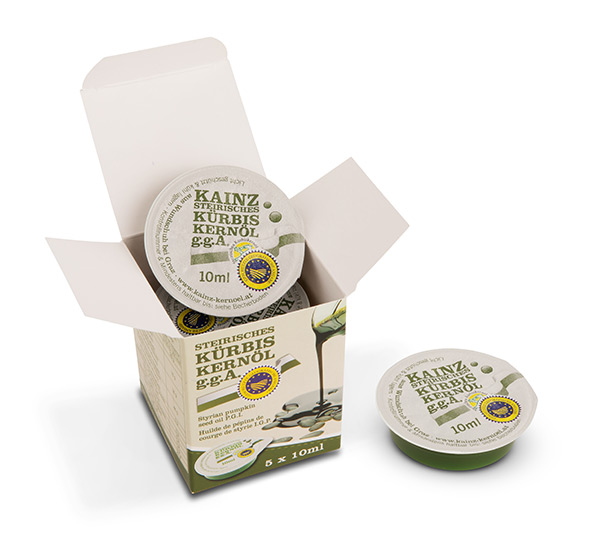 Pumpkin seed oil is a classic staple in Austrian cuisine – for many people in Styria, and beyond, it's difficult to imagine eating a salad without it. But the oil often isn't given the attention it deserves in the catering and hotel business in particular. When it's offered in open containers on buffets, the quality of the oil declines significantly. As a result, it often has to be thrown away before it can all be consumed – a situation that the Kainz family was eager to address in their range of pumpkin seed oil products. One hundred percent pure pumpkin seed oil with a protected geographical indication is poured into small single-serving packets, guaranteeing fresh oil for every customer. Developing it was a challenge, as the dark-green oil cannot be allowed to leak out of the packaging or discolor the inside of the cup. The handy portion-sized packaging consisting of three layers represents an elegant solution. White foil inside the cup is effective in emphasizing the oil's color, the barrier layer of EVOH guarantees a long shelf life and UV protection, and the colored foil on the outside gives it an attractive appearance. Because the EVOH layer makes up less than 5 percent of the solution's weight, the cup can be declared as PP monomaterial. A serving of pumpkin seed oil is enough to dress a salad, and the oil can also be combined with sheep's cheese, ready-made salads, or jellied meat in a retail setting, for example. "Packaging for seed oil has to meet very special requirements. By working with Greiner Packaging, we know we can count on this high standard of quality as well as on the company's reputation for reliability and security of supply. People who love seed oil can enjoy an optimal flavor and aroma experience when consuming our product, thanks to our single-serving cups," stress Karin and Andreas Kainz. The individual packages with cardboard wraps are available in a 50-unit display and as sample packs containing three or five servings; the product is currently being marketed in Austria, Germany, and Canada.
Monomaterial solutions – which have cups and lids made of the same material – are ideal in terms of recycling. The basic principle is that the fewer materials an item of packaging contains, and the more straightforward it is to separate the individual plastics from one another in the recycling facility, the more effectively they can be prepared for recycling. Many companies are currently making a deliberate transition to such solutions because they provide an ideal means of meeting the expectations consumers place on sustainability.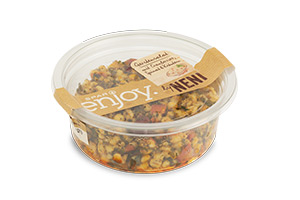 One example of monomaterial packaging with a snap-in lid is the cup design used by Neni Am Tisch to contain Oriental dishes marketed as healthy snacks. Like the cups themselves, the lids are made of highly transparent PET and allow the packaging to be resealed, and the cups are provided with a tamper-evident paper wrap for security. This monomaterial packaging contains a high proportion of recycled material and is perfect for recycling, while also making a visual impact at the point of sale. The fact that it's transparent puts the product in its best light, and the wrap provides important information. "Greiner Packaging supported us with technological expertise and professional project management during the packaging development process," says Ilan Molcho, Managing Director of Neni Am Tisch.
A further example of a monomaterial solution with a sealing lid is the packaging used by Austrian company Otto Schachinger for its range of lards. One advantage of the sealing lid is that it eliminates the need for sealing film or foil, which is typically made of aluminum. Nonetheless, the packaging is still tamper-evident, and the product is perfectly protected. The conditions are therefore ideal for recycling, given that the cup and lid are both produced from the same material.
Upon request, recycled material can also be used for lids in particular. The same applies to top cups. These lids come with space inside that can be used, for example, to store extra ingredients separately from the main product. Solutions made of r-PET are one option offered by Greiner Packaging in this area.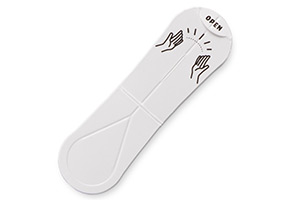 Whether salad dishes like couscous or convenience products in general – many products in this segment are consumed outside the home, which means they benefit from cutlery that comes enclosed in the packaging. In order to cut back on plastic, Greiner Packaging worked together with the specialists at Cardbox to develop a spoon made of cardboard. Thanks to the material used in its production, the spoon is especially lightweight and easy to shape, and its length was chosen to make it ideally suited for most cup heights as well as average hand lengths. Folding the spoon makes it sturdy, and the cardboard can simply be recycled after use. The folded cardboard spoon can be enclosed by Greiner Packaging as part of the packaging production process itself – offering customers an end-to-end solution. If desired, the spoon can be decorated on one or both sides.
But Greiner Packaging's solutions in the salad segment don't just offer easy handling – the company also ensures that the products are protected and in a perfectly hygienic condition when consumers are ready to enjoy them. Plus, the packaging boasts an attractive look and ensures the product stands out on supermarket shelves. Greiner Packaging's solutions guarantee an ideal combination of convenience and sustainability – and they're always tailored to the respective product and the customer's specific requirements.