We use alternative materials
From recyclates to bio- and agro-based materials
We've been using scrap from our own production for a long time. This is an obvious step, because it's easy. But using recycled materials recovered from consumer refuse isn't quite so straightforward. Demand for this material is high, which often makes it difficult to obtain. Moreover, the quality of this recycled material still varies.
At the same time, it's subject to strict legal requirements – especially when it comes to packaging for food. Hardly any materials are approved for this purpose at present. In Europe, we follow the assessments of the European Food Safety Authority (EFSA). This organization determines which materials are suitable for producing food packaging. The Food and Drug Administration (FDA) carries out this role in the US.

In other words, there are still a lot of challenges that need to be overcome. But we say, challenge accepted! Right now, we're working on the following material streams:
Among plastics, r-PET is currently the only postconsumer recycled material that can be mechanically recycled and has also received a positive EFSA opinion (with the exception of some small, specific material loops). As a result, this material can be used in direct contact with foods. Mechanical recycling of r-PET has already been successfully practiced for many years. In the coming years, we expect other PET packaging solutions aside from PET bottles to become recyclable (e.g., fruit containers, cups, trays).
Greiner Packaging products:
Bottles
Lids
Trays
Blister packaging
Cups
Availability:
Non-food products: available
Food products: available
r-HDPE has an FDA recycle number but has not received a positive opinion from the EFSA (with a few specific exceptions).
Mechanical recycling of r-PE is already possible, and the material can currently be used for packaging containing items such as certain cosmetic products. Chemical recycling is expected to become a more viable option in the coming years.
Greiner Packaging products:
Shampoo bottles
Packaging for cleaning products
Availability:
Non-food products: readily available (with quality constraints)
Food products: very limited availability
A positive EFSA opinion has not yet been granted for mechanically recycled r-PP, meaning that this option is not yet suitable for food contact. However, mechanically recycled PP could currently be used for food products as long as a functional barrier is used. Initial quantities of chemically recycled r-PP are pointing the way for the future, although industrial quantities are not expected to be available until a few years' time.
Availability:
Non-food products: readily available (with certain quality constraints – e.g., concerning coloring)
Food products: r-PP that has been chemically recycled (via pyrolysis) is already available in small quantities, backed by a positive EFSA opinion
After positive challenge tests, a dossier has already been written for an EFSA opinion on mechanically recycled PS. However, unless a positive EFSA statement is issued, mechanically recycled PS can only be used for food contact applications under certain conditions. Still,
initial tests with 100 percent postconsumer recycled material
have been highly promising. Small quantities of chemically recycled PS should be available in 2021.
Greiner Packaging products:
Technical components
Blister packs
Availability:
Non-food products: readily available (with quality constraints)
Food products: biocircular PS from organic waste is already available for specialty applications (mass balance).
Fossil-based plastics are made from oil. Non-fossil-based plastics can come from a wide range of sources. These include biomass, organic refuse, cellulose, starch, sugar cane, etc. The raw material base is broken down according to its generation:
First-generation raw material: Primary fruit from the production process, such as kernels of corn. Dedicated acreage is required for this purpose.
Second-generation raw material: Secondary fruit from the production process, such as leaves and stems, which are considered waste. This doesn't require dedicated acreage.
Third-generation raw material: Organic waste and production waste. Dedicated acreage isn't required.
Non-fossil plastics can be divided into different categories, such as vegetarian, vegan, and halal, and can be compostable – although they do not necessarily have to be. There are also biocircular plastics, which are recyclable, depending primarily on the availability of a recycling stream.
Availability:
Biocircular PP, PS, and PE are already available, mainly but not exclusively based on the mass balance approach with food-grade approval.
PET with 30 percent biocircular content is available, containing sugarcane from Taiwan.
Fair plastic is based on the idea of removing washed-up plastic waste from the coastal regions of the world while securing reliable material streams. The principle is simple and socially responsible. Organizations such as
Plastic Bank®
initiate and coordinate the collection, sorting, and processing of plastic waste locally, before transporting it to be converted into new plastic products by producers like Greiner Packaging. This raises awareness of the value of plastic, guarantees local collectors a regular income, and helps make it possible to produce sustainable packaging with an improved carbon footprint.
Availability:
A range of different recycled materials made from fair plastic is already available. This includes food-grade r-PET, r-PP, and r-HDPE for nonfood packaging to contain cleaning products, household chemicals, and so on.
Mass balance & Certifications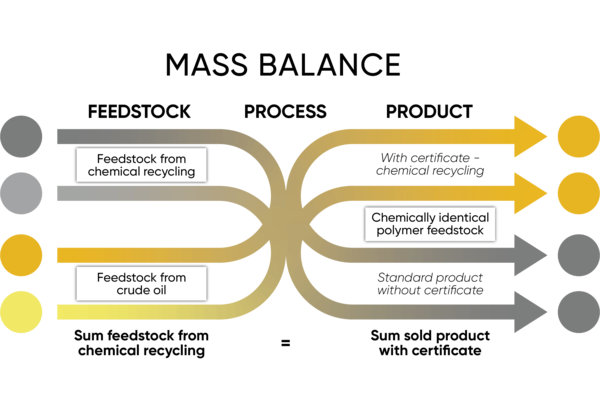 As with materials from nonfossil sources, chemically recycled materials are currently used in accordance with the mass balance approach. As plastic packaging producers, we purchase a certificate for a material stream, which ensures we contribute toward the use of chemically recycled or renewable materials.
An initial group of Greiner Packaging locations have already been ISCC PLUS certified, allowing them to print the ISCC PLUS logo on the relevant packaging when processing chemically recycled and biocircular materials. ISCC PLUS certification ensures that chemically recycled and biocircular-based materials are used and that this can be documented.